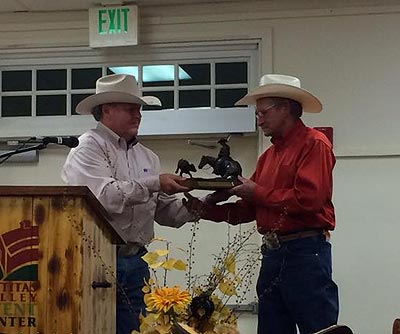 News From The Board
Another great Cascade Cow Cutters show season is complete! What a great year! We would like to say a special Thank You to our 2015 President Holly Jones. Holly put her heart and soul into CCC this year and was the prime driving force behind the Saddle Race and Stallion Auction. Great job Holly!
We would also like to recognize two awards that were given out this year that had some very special meaning to us all. As you know we lost one of our greatest long time members this year to cancer. Dick Nading was a fixture at all Cascade Cow Cutters events for as long as most of us can remember. We all miss seeing him out there and will never forget that wonderful, generous, truly great man. This year CCC was proud to award the Dick Nading Memorial Sportsmanship Award. This award represents the true sportsman whose conduct is always exemplary in the show pen and out. Fittingly, the member chosen to receive this award was none other than our own Jack Kitt. Dick's son-in-law and best friend. Jack is truly deserving of this award as one of the hardest working, best sports at CCC. Congratulations Jack! We are proud to have the honor to work with you in the great sport of cutting.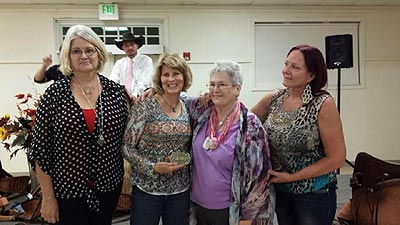 The second award was donated by Bev Nading in honor of Dick. Bev chose to donate the Non Pro Saddle this year. The Non Pro was Dick's class and he would be so proud of Bev's choice in continuing to promote this great class. The winner of the Dick Nading Non Pro saddle was Terrie Goiney. Congratulations Terrie on a job well done! Thank you all for being a part of our great organization. Our members are what makes this club great!
---


Congratulations to Kim Burck on winning the $15Am saddle race.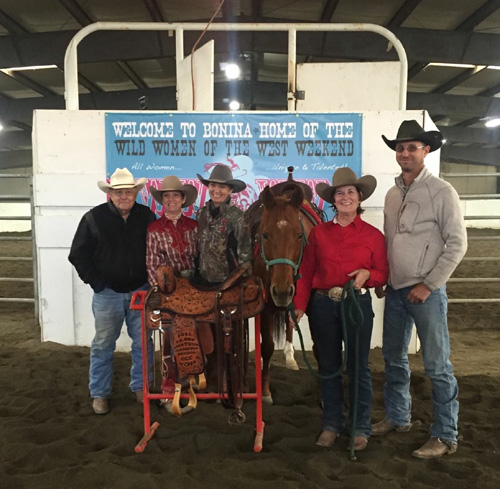 The saddle was co-sponsored by Cascade Cow Cutters, Washington Cutting Horse Association, and Bonina. Kim is shown with her trainer Jason Schaper, 2015 CCC President Holly Jones, and co-sponsors Bob and Nina Lundgren. Congratulations also to runner-up Ehrin Dawson for making it a great race!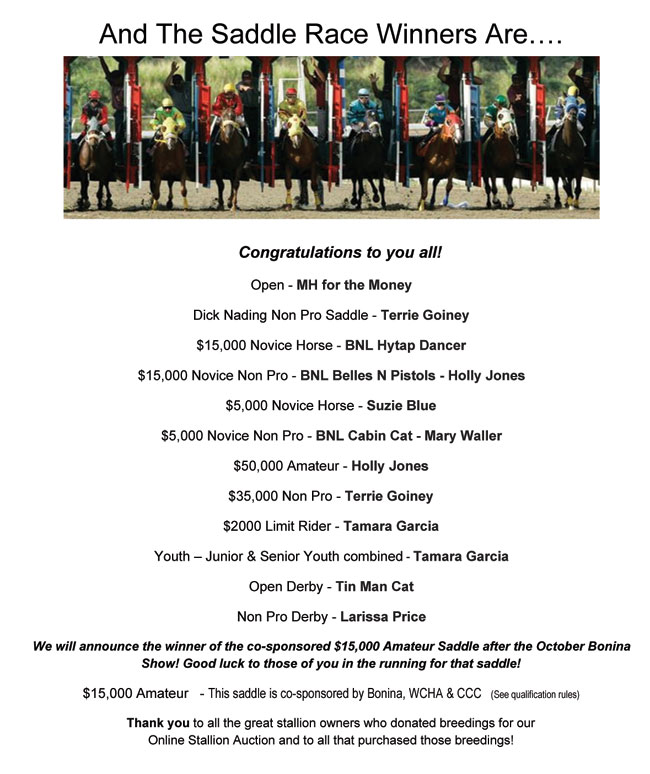 President's Letter
This is the final letter I will be writing to you. I have enjoyed my year as your president. It has not been without its huge challenges but I'm proud of what was accomplished.
The first show of the year was held at Bonina. The approval fees from this show gave CCC a much needed boost to its revenue. Over $3000 was raised without CCC having any expenses. Approval fees at shows outside of the normal CCC year are of extreme value. Cutting shows are very expensive to put on, with very little revenue generated in the form of profit. When expenses are nonexistent the association receives much needed cash. I encourage each of you to push your directors to approve more outside shows. The association will need the revenue!
The Stallion Auction – 26 stallion owners donated to our association! We raised an incredible amount for a first time auction. A large portion of the money raised went towards a saddle race in each of the NCHA classes. Nina Lundgren and I did the lion's share of getting this off the ground and running, but it couldn't have been accomplished without the help of Janie Larson, Tiffany Boyce-Scott and Dan and Rusanne Wagner.
Bylaws –After 11 years I felt they needed updating, so I rewrote them. Sue Kitt, Nina Lundgren and Tiffany Boyce-Scott edited and gave recommendations. At the first general meeting Cascade Cow Cutters approved them. We are now an association with continuity.
Arena – Many CCC members have a love affair with Bloom. Bloom has limitations that present challenges. The fair management is not willing to help reduce our costs. I was able to convince them that the loping arena had to be larger, for safety reasons. I tried to get the fence pushed back towards the entrance even more. Management promised to improve the base footing but unfortunately that did not happen. I personally feel that sand in the arena makes or breaks a show. I am proud that we were able to have good sand in our working area all year long.
Financially the association should be in the black. I hope that the new board will make sure that two things happen – the youth funds and the Dick Nading Memorial Fund are put in separate accounts so that this money does not get used in the general fund. I hope that scholarships will be set up and our senior riders can have a reward for their hard work when it comes to college.
This association takes considerable time. It has to be supported! This may mean getting out of one's comfort zone; financially & physically and doing something! Personal time needs to be given if it is a sport you love and want to see continue.
Next year, if you have complaints or concerns, please don't dump them on Sue. She has so much to do trying to keep everything organized at a show. She does NOT deserve to have to listen to any grumbling. She is not a voting board member (tho she works harder than anyone) so tell someone who is! You voted on a board, let them carry the responsibility, not Sue.
I hope that the next president will love this association as I did. The position is not for the weak of heart. CCC challenges can lead to many sleepless nights and lost time trying to settle issues; when you could be working on something productive. I had a few people who were always there when ever I needed them – Sue Kitt, Nina Lundgren, Dan and Rusanne Wagner. Thank you! If you ever have questions about this association, they will give you the honest answers.
Thank you to all that supported me and my efforts this year. May the cows always be good, the sand perfect and your horse work as you've dreamed it would.
Holly Jones
---
September President's Letter:
Our final Show is just around the corner! This year has gone very quickly. I've thoroughly enjoyed this year as president. There have been some hiccups and challenges but we have a great organization. While other associations are complaining about lack of members and entries, I'm proud that we have had some great participation! Thank you all for supporting Cascade Cow Cutters!
We are very fortunate to have a new member who believes in promoting the beef industry! Keith Pearce & Joy Le Tourneau and Don Blakemore from Merial Equine Feeds will be hosting the Tri Tip and beans for our awards banquet! Plus Keith is cooking it after he finishes showing in the $2,000. Please be sure to tell him thank you! Our Youth will be acting as servers! (I know our youth will gladly accept tips!) :: CLICK HERE TO VIEW PRESIDENT'S LETTER IN IT'S ENTIRETY (pdf).
---
August President's letter
Hope you this finds all of you safe from the fires that are threatening our Northwest. This is such a hard time of year, when our forests are threatened and no relief is in sight. As I write this, some of our cutting friends are experiencing losses again. My heart breaks for you! One never knows how lucky they have it, until they see the devastation a forest fire can cause. At this point, I haven't heard of any of our cutters who have lost everything, yet, but I do know many of them have had to evacuate or be ready to.
I know everyone who was at the last CCC show is anxiously waiting what will be happening for our final show…
Final Show will be held in Ellensburg September 17, 18 & 19, 2015!
Thursday, Friday and Saturday
Banquet to follow Saturday night
I still can't guarantee what type of cattle we will cut, but I can tell you we will have a cutting!

There have been many many phone calls made, lots of different avenues sourced…
Jason found some, but then the cost of shipping them was too high. Found others, but owners didn't want them exercised. Cattle are a resource that is becoming increasingly hard to find during certain times of the year. We cutters are spoiled (me included). We all would love to cut fresh beef cattle, but if we are to stay in one location, that isn't always possible. This year due to the lack of irrigated pasture, the cattle I reserved in January, left the area. Currently, most cattle the size we need, are already headed to feedlots, once there, they can't be moved. We must be flexible to outside options or not complain. I had a questionnaire at the last show asking your opinion. It was close to a split vote, but the majority said Ellensburg with Holsteins. I had many people tell me that they will not come if we have Holsteins, I sincerely hope that will not be the case, Cascade needs your support. Those of us that practiced on Holsteins… they weren't that bad, just slow.
I have not given up on beef cattle. I will continue my search for "where's the beef?" If not for the whole show, for at least the futurity and hopefully the added money classes.
Our final show will have Futurity Classes as well as our Derby classes. Please bring your babies!
The banquet will follow our Saturday final show -time & price to be announced. The banquet will be held on the grounds in the Teanaway Hall. Final awards will also be presented the night of the banquet. As a reminder, to be eligible for awards, you must have ridden in 50% plus 1 of the CCC classes.
There is NO show on Sunday, so we hope you will have a great time at the banquet. Our banquet committee, Sydney Sylvester & Mary Waller have been very busy locating wonderful prizes for our auctions, so don't forget your checkbooks! The money will go towards helping our association.
YOUTH – NCHA only allows youth to have classes on Saturday and Sunday. We will have our normal CCC/NCHA/NYCHA point class on Saturday at its normal time. I have special permission to host a NON NCHA point class for the youth Friday night. It will be for CCC points ONLY. Our youth will have the opportunity to ride twice at the final show, instead of only once. We will host the Friday night class, after all of the pre-entered youth, are on the grounds and have warmed up their horses. PLEASE let Sue know the approximate time that you will be arriving so we can coordinate the cattle.
If you have a desire to help out our association, there are many ways to accomplish it.
1. Enter classes
2. Bring an item to the auction
3. Purchase an item at the auction
4. Make a donation
5. Give of your time! We have board openings; please contact Danny Z or Jack. We'd love to have your name on the ballet. It's the best way to help shape the future of our association. If you have desires, hopes, concerns or complaints … CCC needs you!
It's sad that the end of the cutting year is approaching. The Limited Aged Events are starting. It's fun to see all the babies that our trainers have worked so hard on and are showing for the first times. The last two weekends many CCC members spent time in Montana.
Congratulations to:
Youth: Tamara Garcia – Winner of the $1000 regional shootout!
Carson Gould – Top 3 regional shoot out.
$5,000 Novice Horse: Nina Lundgren on Lady Liberty (Owned by Joy Le Tourneau) - Top 3 regional shoot out.
$5,000 Novice Non Pro: Harland Radomske - Winner of the $1000 regional shootout!
$15,000 Novice Non Pro: Jody Radomske – Top 3 regional shoot out.
$35,000 Non Pro: Jim Townsend - Top 3 regional shoot out.
$15,000 Amateur: Erin Dawson - Top 3 regional shoot out.
Jim Townsend - Top 3 regional shoot out.
Joy Townsend - Top 3 regional shoot out.
$2,000 Limit Rider: Rob Burnside – Winner of the $1000 regional shootout!
Big Sky LAE finalists:
Bridleless cutting: Jeff Sleeman – Reserve Champion on Trava Bob (Owned by Jane & Duane Roundtree)
Open Futurity: Nina Lundgren on BNL Hip Hip Ole (Owned by Lundgren Land and Livestock)
Open Derby: Russ Elrod on Attamilliondollarcat (Owned by Michelle Carson)
Non Pro Derby: Keith Pierce on Louella Davita
Non Pro Classic Challenge: Holly Jones on BNL Bells N Pistols – Reserve Champion
The Idaho aged event starts next week. If you haven't experienced a Mecuria World Series of Cutting, take the time to drive to Boise for the weekend. The Mecuria is thrilling to watch on the computer – but even better in person!
See you in September,
Holly
---
President's Message July 24, 2015
Wow this month went fast!
Thank you to all that braved the heat over the 4th of July! With the big fans and misters, Bloom wasn't bad! They will be available again, should it turn warm for our upcoming July/August show.
Duck Cutting – What a great, fun evening sponsored by Mark and Gwenda Music! Almost $1700 was raised for our club (including the youth fund)! THANK YOU!!!
On a very sad note, we will be without one of our favorite turn back men this next show… Mark Music (the great duck gatherer) had a disagreement with his filly. He ended up on the losing side and was air transported to Spokane. He's back home now and as feisty as ever, on the phone. Please keep him in your thoughts for a VERY quick recovery! Knowing Mark, he won't be down long. We sure will miss you through this show!!!
We extend our deepest sympathy to the family of Jim & Terry Colleary in the passing of Terry's mother.
This show will be a busy one, besides the cutting…
Cuttin' Loose Club is sponsoring ALL their youth at CCC this show. Our youth cutting will be a big class! Please be sure to take time to welcome all these young cutters to our association!
Dog Races!!! It's time to fine tune your dog and it's "come" commands. Saturday night Jason will again set the hounds loose. Bring your dog and join the fun! Of course we will again Calcutta these great running dogs.
Tough Enough To Wear… This saying has taken on so many colors for those that are fighting medical battles. Pink, Orange, Blue, Purple… There aren't many of us who have not been touched or known someone touched by a health issue. Let's make Saturday a colorful day in the arena by wearing a color that supports a causes that has meaning to you!
Saddle race is getting very interesting! That's what makes it all the more fun.
See you in the cutting pen next weekend!
Holly
---
President's Message Jun 29, 2015
July show is here! With it comes the heat… The Fairgrounds is going to set up fans for us and said they would open up an air-conditioned room for people to cool off in. I read a post on Facebook yesterday that I agree with… "It's going to be hot everywhere, might as well enjoy cutting!" I sincerely hope to see you this coming weekend!
I will be bringing extra cases of water for everyone! The goal is to stay hydrated, please take one! Keep heat and your horses in mind as well. Will make sure the fairground's has extra water hoses available to hose off our horses. If anyone has portable misters, could you please bring them? If there is anything that I can do to help anyone, please do not hesitate to ask.
Our new food vendor had a prior commitment to the 4th. They will be feeding us on Friday and Sunday, but Saturday LUNCH will be hosted by OUR Youth! They are planning a great lunch! Let's help increase the Youth Fund by having lunch with them!
Saturday night is our annual pot luck! The club will be suppling chicken, plates, utensils… Please bring a side dish, salad or dessert. After our dinner, entertainment is planned! Gwenda and Mark Music have been raising ducks for a duck cutting. (Thank you Mark & Gwenda) Should be fun, challenging and worth a lot of laughs. This will be a fundraiser for our association, please plan to enter and join the fun!
On a different note, many of our cutting families have been going through some tough challenges. Those that I know…
Our treasurer Jane Roundtree just lost her father June 28th. Did not know Jane's father, but do know he raised a great daughter. We are so sorry for your loss!
As you may know, Jim Cox passed away recently. He was always one who spoke to everyone and enjoyed the sport of cutting. My sympathies go out to his wife Gail and hope that good memories can help fill the emptiness that has been left behind.
Tom Scott (Tiffany's husband) has been battling Alpha 1. His lung capacity has dropped from 50% to 30% over the past 2 years. At 20% he will go on the transplant list. Please continue prayers for the Scott family!
Candy and George Hoksbergen from Twisp have had their share of ups and downs this spring/summer. Their son Kevin has had heart problems for many years. Late this spring he was told he needed a transplant soon. Last month they made an emergency trip to LA. He got so bad that they gave him a mechanical heart and told him it would be about two years before he would be able to get a new transplant. With lots of prayers and faith… within a week he was put back on the transplant list and received a new heart. Latest video of him shows him walking down the halls for PT. Anyone at the fall show at Bonina will remember him as the vivacious young man who rode a cutting horse for the first time. He was so excited, making that excitement contagious for all of us. So happy he is finally on the road to recovery!
Terri and Dan DeWeert also need your thoughts and prayers. Earlier Terri's mother fell, so is now living with them. Dan is going through some very tough medical times right now. Terri tells me that his family is there, which Dan loves. I'm sure having a busy veterinary practice and these medical challenges has Terri stretched very thin. Terri, please know we miss you in the cutting pen and are thinking about you!
NCHA convention was last weekend. I'm looking forward to Jack & De filling us all in at the pot luck!
Those of you that are riding for the $15,000 Am saddle; I'm also including the rule sheet for it. Hopefully you are keeping track of your own scores. We are about halfway thru the series. Please note that it states that contestants must ride at least twice at CCC, twice at WCHA and twice at Bonina. These are shows that are produced by the association or Bonina, not just approved. CCC has three more weekend shows; WCHA has shows in July and September. Bonina's last show will be October. This saddle is based on highest scores – so there is still time to enter this competition! Please ask Sue for the entry/score form.
I was very proud of all the members for CCC that went to NCHA Weekend! We had a great turnout! I hear many other associations complaining that they are losing members; that there aren't new people who want to cut. I'm so glad that CCC has such a wonderful membership of great people who like to cut! Thank you all for your support of our association!
Hope to see you this weekend! Can't guarantee cool but can guarantee fun!
Holly
PS. Talking with a service man at Les Schwab, he said that trailer tires are only rated for 65 mph max and must be inflated to the proper amount. With the hot roadways, please take a moment to check your tire pressure and drive safely!
******************************************************************************************
2015 $15,000 AMATEUR SADDLE COMPETITION
This competition is designed to stimulate Amateur riders to show their horses in NCHA shows! It will give them experience showing in different places on different types of cattle. Plus, this will be an opportunity to meet new cutter friends. The saddle donation will be a cooperative effort between Cascade Cow Cutters, Washington Cutting Horse Association and NCHA show producer Bonina, Inc.
Highest six (6) cumulative scores will win a gift certificate for a saddle. Winner may customize saddle to fit his or her horse and needs.
EVENT RULES
Rider must show in the $15,000 Amateur class at least twice at Cascade Cow Cutters shows, twice at Washington Cutting Horse Association shows and twice at Bonina shows.
Rider turns in his or her best 6 scores from $15,000 Amateur classes on a form provided by show producers to show secretary at the Bonina Fall Fun Show, October 23 – 25, 2015. Form may be submitted by proxy if rider is unable to attend.
Highest cumulative score wins certificate for a saddle.
Scores may come from any combination of shows. Example:
o 67 - Cascade Cow Cutters, March 14, 2015
o 69 - CCC, March 14, 2015
o 70 - Washington Cutting Horse Association, April 18, 2015
o 68 - WCHA, April 19, 2015
o 72 - CCC, May 9, 2015
o 66 - CCC, May 10, 2015
o 60 - WCHA, May 23, 2015
o 73 - WCHA , May 24, 2015
o 71 - Bonina, October 24, 2015
o 72 - Bonina, October 25, 2015
TOTAL = 427
In case of tie, the ride off will be held at the Bonina Fall Fun Show.
In case of tie with rider whose scores have been submitted by proxy, rider competing at Bonina Fall Fun Show will be declared winner.
Year-End Saddle Certificate to be paid for jointly by Cascade Cow Cutters, Washington Cutting Horse Association and Bonina, Inc.
---
Cascade Cow Cutters President's Message May, 2015
Can't believe it's already the middle of May. The last month and a half has been a whirlwind of cutting!
Our May show was a great success! What a wonderful association we have! I sincerely thank each of you for taking the time and effort to come and cut! I also know I'm thankful every time I hear that cattle truck pull in. Fresh cattle are becoming such a luxury that we've taken for granted. Many parts of the country wish they were as lucky.
Unsung heroes... Sue Kitt, Dan and Rusanne Wagner - I can always count on them to tackle any task I ask! Sue always has our best interests at heart. Her warmth and love is spread to each and every one of us. Without her kindness this club would not have the same feel! Dan arrives a day earlier than the rest of us to make sure everything is set up correctly. He's one of the very last people to leave. If I have a project, Rusanne is always first to volunteer. (I'm so glad to see her in the show pen again!!!) Thank you for the effort, time and love you three give!
If you were not able to attend Western Nationals you missed a great show! NCHA ran an outstanding cutting! It was well attended by people from all over. Cattle were tough, judging was tight and classes were large. Congratulations to Olivia Kleinhaus for her fourth place finish in the Junior Youth on the great horse Starlights Fancy! Making finals was quite an accomplishment – Congratulations to: Josh Sleeman, Jason Schaper, Sydney Sylvester (11th out of 60 – her 1st time there!), April Douzart, Cindy Gobler, Haylee Sleeman, Kim Burck, Bodeen Sleeman, Emma Lanning, Megan Baker, Jennifer Whisler, Carol Kneeshaw, Judd Sherman, Dave Huber, Jennifer Sleeman and myself. A few of us were even fortunate enough to make top ten! Please encourage our area directors to continue fighting to keep Western Nationals close enough that we can still attend. It is a wonderful event that I encourage everyone to participate in.
NCHA/AQHA Weekend is coming soon. It might be a little ways to travel but we need to support these events! This is our industry, our sport. If cutting is your passion, Madras should be your venue. It's always good to compete in a larger show! Meet new friends, show in different arenas. There has been concern about quarantines, to date, this is not in effect. I will let you know if there is a change.
Oregon Cutting Horse Association has the entries on line now. Entries due May 25th! Madras does not have electrical hookups, so bring a generator. PCCHA is offering a youth scholarship this year. Total purse for SR. Youth is $1050 (1st $450, 2nd $350 and 3rd $250). JR. Youth total purse is $750 (1st $350, 2nd $250 and 3rd $150). Youth must be members of PCCHA ($20). They will also be giving away Joey Jemison Spur Straps for first and second place finishers! Top 3 youth from each division will be invited to the Latigo Canyon Youth Invitational in Paso Robles, Ca. (Tentative date: Oct. 25th)
Tacos Chalitos served some outstanding meals last weekend! Christian and Jenny Garcia are great cooks! I am so grateful that they will be feeding us. For those that aren't fond of "Mexican food"… theirs was very mild! I was even was daring enough to try the goat – which was so good!
In July, Christian was already booked for the 4th only, so our youth will be feeding us that day! Thank you to Michelle Carson who is heading up our youth! I was pleased to see the youth meeting was attended by quite a few family members as well. They are planning on some great things for our lunch! That night will be our annual potluck! Please plan to bring something to share with the group.
The Flag… Please remember that the monies generated from the flag practices are very important to the club! While we may have made enough to sponsor a saddle race, the club itself is still not on solid financial ground. It saddens me greatly when I see people come back from a flag practice and not bother to sign their names. This is your club. Honesty counts! Thank you to those who remember to have Sue add your flag practices to your show bill when settling out.
The board has made a couple new decisions…
Practices – We are having a problem getting people to the practice pen early. Sue and Dan are arriving at least an hour before anyone else gets there. This is very unfair to them. Start time will now be 8 am. Please remember that the judge arrives for a 1:00 show, so we need to be ready for him or her.
Next year's dates – We have had many requests to take our shows off family holidays. KVC wants me to set our dates now. Pending NCHA approval the 2016 dates for Ellensburg will be:
April 1-3, 2016
May 13-15, 2016
July 1-3 OR 8-10, 2016 (Depending on WCHA) This year is July 3-5, 2015!
Aug 5-7, 2016
Sept 16-18, 2016
This does not exclude the possibility of our approving other outside shows, nor does it include NCHA Weekend. These dates are only for the shows at Bloom.
If you have any thoughts or concerns, please feel free to contact me. Otherwise, see you in the cutting pen!

Holly Jones
holly@pocketinet.com
509-386-5979

"Each time I ride to the herd, I strive to beat the rider I was yesterday" Unknown author
---
Cascade Cow Cutters President's Message February 24, 2015
Cutting Friends,
This year is only a month and a half old and much has happened.
CONDOLENCES: We lost everyone's friend Dick Nading. He always helped, gave wise advice and was kind to everyone. We will miss him and Merada at the shows. Please keep his wife, Bev, and daughter Sue and Jack in your thoughts.
Bev has generously donated a saddle in honor of Dick. The family felt it should go to the class he rode in, so the Non Pro class this year will be called the Dick Nading Non Pro. I hope this class will be large, competing in his honor, for this saddle.
Pete Sartin's wife, Donna, passed away recently as they were preparing to head north from Arizona. Years ago, Donna and Bev used to help at the cuttings, keeping the shows running smoothly. Hugs to Pete and their son, Ben.
On a happier note –
CASCADE COW CUTTER STALLION AUCTION has been a terrific success! Nina Lundgren, Tiffany Boyce-Scott, Janie Larson, Big Sky Internet Design and I worked hard securing great stallions for the auction, then sending word about the offering to cutters across the nation. What excitement we felt when the results were tallied and the auction generated $25,000 for the Cascade Cow Cutters saddle race! Competitors in all NCHA classes will have a chance to win a saddle this year. See cascadecowcutters.org more info.
The $15,000 Amateur saddle race is co-sponsored by Bonina, CCC and WCHA. To win this saddle, the rider must show at all three venues. Again, see cascadecowcutters.org for complete rules.
FIRST SHOW: March 13 – 15 at Bonina in Eltopia. This is an NCHA, CCC & WCHA approved show. At entry time, the affiliate must be designate for points to count towards year end awards. Only one entry fee is paid. An additional $10 for the affiliate will secure that your points count. There will be a fresh cattle practice starting at 8:00 Friday morning, March 13th. Show starts at 1:00. Bonina promises good cattle and ground, Noble stalls and limited hookups. Please reserve hook-ups early.
SECOND SHOW: April 3 – 5th at Bloom Arena in Ellensburg. Saturday night there will be a general membership meeting, potluck and red solo cup event organized by Amber! Janie Larson is rounding up goodies for a dessert raffle. Sunday is Easter. We need a volunteer to lead the Easter service. And, another to organize an Easter egg hunt!
STALL RESERVATIONS: There are 50 stalls available in the light and draft horse barns. Their cost is $30/day. They will be offered on a first come first reserved basis when accompanied with entries! The smaller stalls in the cattle barn will be $20/day. Small stalls with posts in them are to be avoided. If you are accidently assigned a stall with a post, please feel free to move to an empty stall. Approved turn back horses will be given free stalls in the cattle barn. Big stalls may be reserved for turn backs at $30/night.
MEMBERSHIP: Please send in your CCC application and your horse's registration papers to Sue Kitt ASAP. Be sure to include your Social Security number. At the shows, checks will not be issued until all paperwork has been submitted. A membership form can be found on the website.
SATURDAY NIGHTS will be fun nights! Thanks in advance to all who have offered to host a night of fun. If you have been involved in a fun group activity and think it would work for CCC, please contact me.
See you in the cutting pen!
Holly Jones, President

---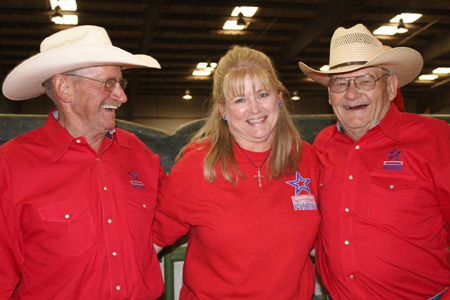 It is with extreme sadness that we must let you all know that Dick Nading passed away January 26. We are heartbroken by the loss of our dear friend. Please keep Bev, Sue, Jack and the entire Nading family in your prayers. Click here for more information.