Cascade Cow Cutters Year End Awards Banquet
September 22, 2018
We will be enjoying dinner served by the same group as last year. If you missed it, it was delicious! The cost will be $30 per person which I'd be more than happy to add to your show bill if you'd like. Ice & soda will be provided. Bring your "spirit" of choice and have a fun evening! Dinner cannot be paid for at the banquet and no dinner without a ticket. Tickets must be purchased prior to 2PM on Saturday (paid with your show bill is perfect!).
Don't forget the auction. Silent or live auction donations gratefully accepted (as well as buyers!). ANYTHING is fair game for the auction and every little bit helps!
---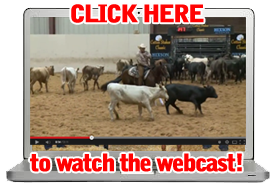 Webcast will be available during our show!
2018 Show Schedule
March 9-11
Bonina in Eltopia, WA - Approved for CCC points
April 6-8
CCC in Ellensburg, WA
April 20-22
Bonina in Eltopia, WA - Approved for CCC points
May 11-13
CCC in Elllensburg, WA
Click here for room reservations
June 8-10
Bonina in Eltopia, WA - Approved for CCC points
July

6-8

CCC in Ellensburg, WA
August 3-5
CCC in Ellensburg, WA
September

20

-22
CCC in Ellensburg, WA
---
CLICK HERE FOR THE 2018 SPONSOR PACKET
Have you ever thought about becoming a sponsor of the Cascade Cow Cutters? We are a club dedicated to promoting the sport of cutting, and we could use your help! Click the link above to find out more about our great sponsorship opportunities.
---
Cascade Cow Cutters (CCC) is an NCHA Affiliate, located in Washington State. We are an active, growing association. We hold 12 to 14 NCHA shows yearly. A fresh cattle practice is generally held in the show pen on Friday preceding the show and a string cow is available all weekend.

CCC offers the full array of NCHA classes with added money in several of the classes. Non-approved classes are offered for the beginning horses and riders; as well as limited aged classes.

Cascade Cow Cutters club atmosphere is always upbeat, family oriented, yet competitive in spirit. At year end, we host a fabulous banquet with terrific awards! Come join our fun and cut with the best of the Northwest! Looking forward to seeing you at Cascade Cow Cutters next show!
Join our wonderful team
of sponsors!
Click here
to see all of our great sponsorship opportunities!
Come Cut With Us!!
PLEASE NOTE! The NCHA has discontinued family memberships, so when a horse is owned by more than one person, all of those owners must be NCHA members.

Another July in the books
As we cut in the heat
Great food we did have
As a family of friends did we meet

We got all the numbers
Thank you Jane by the way
Just like those present and before you
We try to repay

It's not all the trophies
Or the money we win
Many come around when not mounted
It's all family and friends

So yes there is some burners
And those just about to be
As we cheer on our competitors
Like in their seat we could be

Tough to find a better weekend
It just cannot be
Than riding a clean one
Beating your best occasionally

To many more Julys
or wherever we meet
It's just seeing our friends
Well friends you like to beat

By Dave Huber