Webcast will be available during our show!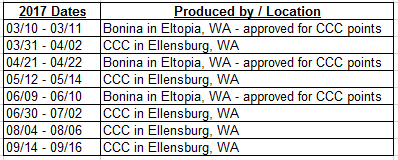 ---
Thank you to all who participated in the stallion auction
and a special thank you to the stallion donors and our stallion auction team for making the auction possible.
CLICK HERE FOR THE 2017 SPONSOR PACKET
Have you ever thought about becoming a sponsor of the Cascade Cow Cutters? We are a club dedicated to promoting the sport of cutting, and we could use your help! Click the link above to find out more about our great sponsorship opportunities.
---
CONGRATULATIONS to the 2016 Non-Pro Dick Nading Memorial saddle winner...Doug Wiens showing This Cats Max, owned by Doug & Angie.
Our thanks to Jody Radomske for resurrecting the CCC Kings Contest. That was so much fun! If you're interested in getting a copy of the video, Hitchiker Productions is making it available for $20. Please reach out to Aaron & Mandy at aaron@hitchikerproductions.com and they'll make sure you get one.
Thank you to those who helped tear down after the show (banners, tarps, arena panels, and the string cow): Kyle & Erin Eaton and Erin's mom & brother, Leah Slattery, Brent Stewart, Ross Hansen, Jeff Sleeman, Amber Simon, Tanner & Brande Fulfs, Duane & Jane Roundtree, Bruce Pinkerton, Jack Kitt, and Dan & Rusanne Wagner. Thank you, Bill Grady, for storing the arena panels under cover for the winter.
Congratulations to the saddle shootout winners. These saddles were made possible by the hard work of the stallion auction team (Nina Lundgren, Holly Jones, Janie Larson, Megan Hunsaker, Rusanne Wagner, & Jane Roundtree (I apologize if I missed anybody....your dedication is appreciated!).